Tufted puffin reported for first time in UK
Birdwatchers flock to Kent coast after a reported sighting of the Pacific seabird, never seen before in the UK
guardian.co.uk,
Wednesday 16 September 2009 16.42 BST Article history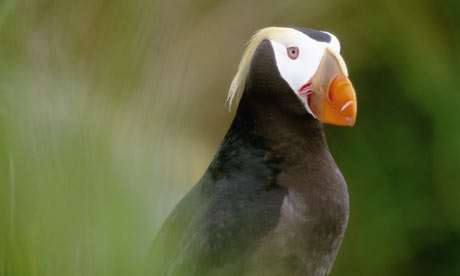 A tufted puffin was spotted flying up and down the Swale in Kent. Photograph: Kevin Schafer/CORBIS
Birdwatchers are heading to the Kent coast after reports of a sighting of a Pacific seabird never before seen in the UK, ornithology experts said today.
The sighting of the tufted puffin was reported to birdwatching information service Birdguides this morning, after the bird was apparently seen in the Oare Marshes nature reserve on the Swale estuary.
If verified, it will be the first time the puffin, which is found in the Pacific and is recognisable by its thick red bill and yellow tufts, has been seen in the UK, and possibly the first time in Europe.
Fiona Barclay, of Birdguides, said the puffin was a "completely unprecedented" bird to spot in this country, and the sighting could lead to the biggest "twitch" for years as birdwatchers keen to spot it head to the area.
She said the bird was seen flying up and down the Swale this morning but had not been sighted since.
Grahame Madge, of the RSPB, said of the sighting: "If it's accepted it will be a first for Britain and will obviously attract a great deal of attention. It's possibly the first time it's been seen in Europe too, though I haven't had that confirmed yet. It's something that's clearly significant, to get a seabird from another ocean in the north Atlantic."
He said that, if verified, the bird's arrival would be the latest in a run of such seabirds turning up in the Atlantic.
Some people believe there could be a corridor of open water opening up to the north of Canada as a result of melting ice in the Arctic, allowing a northern route through for seabirds from one ocean to another, he added.
While the bird is a similar size to puffins found in the UK, it differs in its plumage, which in the breeding season includes blond tufts on its head.
Madge said it would be surprising to see any puffins, which are sea-going birds, in an estuary area such as the Swale, and suggested it could be because the bird was hungry or exhausted after its long journey.

Gonçalo Elias




Número de Mensagens

: 19881


Idade

: 50


Local

: Sotavento


Data de inscrição :

14/06/2007



Mais um provável resultado do aquecimento global, neste caso da tal abertura Norte, proveniente do degelo nunca antes visto no Canadá. Mais tarde ou mais cedo, começaremos a ter também espécies africanas a vir por aí acima com o calor

(e o mosquito da malária, que também voa, mas agora não interessa nada para aqui)...

Morais




Número de Mensagens

: 113


Idade

: 57


Local

: Lisboa


Data de inscrição :

31/08/2009



---
Permissão deste fórum:
Você
não pode
responder aos tópicos neste fórum